3rd International Conference - Impact of Current Events on the Future of Business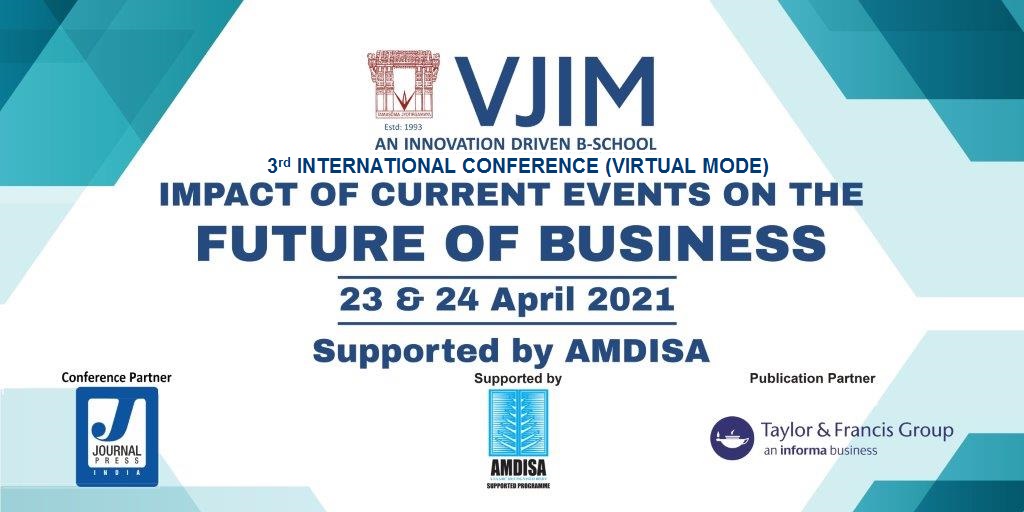 About the Conference
At the outset, the multifarious Covid-19 pandemic impacted a vast majority of individuals, businesses, and nations, one way or the other. The consequences of the predicament might have impinged various stakeholders in a variegated manner, but none have been exempted. Moreover, the unforeseen fluid situation has precipitated challenges to economies, organizations, and individuals alike. Apart from disrupting economic activities, the ubiquitous Covid-19 has subverted political, technological, social, and cultural domains. However, the distinctive Covid-19 pandemic has unfurled new-fangled approaches for businesses, employees, employers, and economies, initiating transformation. Consequently, the imperative to perceive, modulate and manage the exigencies has taken centre stage. Identifying the tenable path forward has become the primary focus for all businesses and nations, both big and small.
Though not a panacea for every challenge, innovation and adaptation have emerged as the 'mantras' for survival and sustenance of nations, businesses and individuals as a whole during the quandary. Technology driven solutions have emerged as the portents of the futuristic paradigms for workplace transformation and business prototypes. We are currently witnessing a demand for smart capabilities powered by Machine Learning (ML) and Artificial Intelligence (AI). In addition, Artificial Intelligence is gaining wider acceptability across the globe thus facilitating product improvisation and customization. Additionally, market experts have resorted to empirical testing of these products for their performance and cost-effectiveness. Remote workplaces, which earlier were a distant dream, of late, have been widely applauded, are a consequence of technology. As the time progresses, the need for developing sustainable economic and financial capabilities is increasing exponentially. More than ever, the value of sustainable supply chains driven by quality, quantity and reach is realized now. The prominence of building performance driven organic infrastructure using renewable solutions has gained substantial attention.
Against this backdrop, a two-day virtual International Conference is intended to provide a forum to showcase relevant research. The conference will be organized by The Vignana Jyothi Institute of Management (VJIM), Hyderabad, India, on the 23rd & the 24th of April 2021.