Edited Book on "Contemporary Issues in Changing Business Scenarios" ... A Research Initiative of ERDA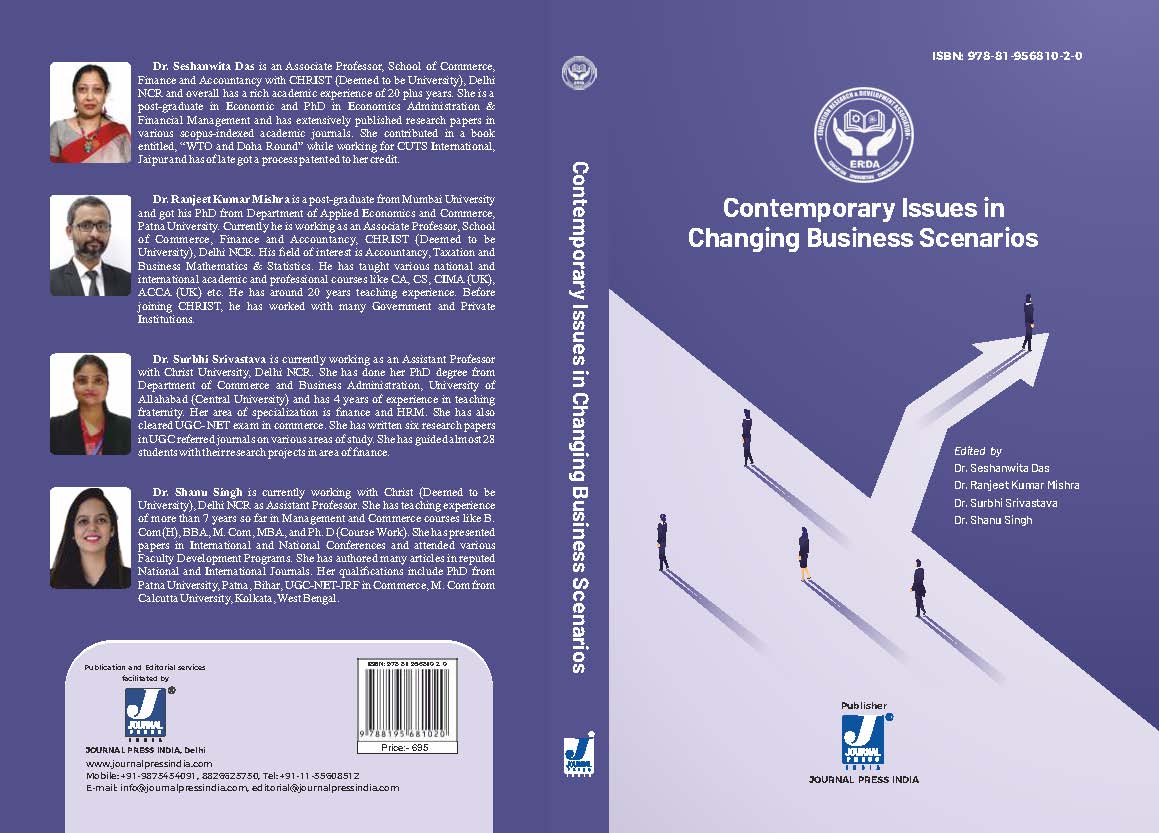 Research Initiative of ERDA's Centre for Promoting Education & Research in Commerce and Management (CPERCM)
Edited by
Members of Education Research and Development Association (ERDA)
Dr. Seshanwita Das is an Associate Professor, School of Commerce, Finance and Accountancy with CHRIST (Deemed to be University), Delhi NCR and overall has a rich academic experience of 20 plus years. She is a post-graduate in Economic and PhD in Economics Administration & Financial Management and has extensively published research papers in various scopus-indexed academic journals. She contributed in a book entitled, "WTO and Doha Round" while working for CUTS International, Jaipur and has of late got a process patented to her credit.
Dr. Ranjeet Kumar Mishra is a post-graduate from Mumbai University and got his PhD from Department of Applied Economics and Commerce, Patna University. Currently he is working as an Associate Professor, School of Commerce, Finance and Accountancy, CHRIST (Deemed to be University), Delhi NCR. His field of interest is Accountancy, Taxation and Business Mathematics & Statistics. He has taught various national and international academic and professional courses like CA, CS, CIMA (UK), ACCA (UK) etc. He has around 20 years teaching experience. Before joining CHRIST, he has worked with many Government and Private Institutions.
Dr. Surbhi Srivastava is currently working as an Assistant Professor with Christ University, Delhi NCR. She has done her PhD degree from Department of Commerce and Business Administration, University of Allahabad (Central University) and has 4 years of experience in teaching fraternity. Her area of specialization is finance and HRM. She has also cleared UGC- NET exam in commerce. She has written six research papers in UGC referred journals on various areas of study. She has guided almost 28 students with their research projects in area of finance.
Dr. Shanu Singh is currently working with Christ (Deemed to be University), Delhi NCR as Assistant Professor. She has teaching experience of more than 7 years so far in Management and Commerce courses like B. Com(H), BBA, M. Com, MBA, and Ph. D (Course Work). She has presented papers in International and National Conferences and attended various Faculty Development Programs. She has authored many articles in reputed National and International Journals. Her qualifications include PhD from Patna University, Patna, Bihar, UGC-NET-JRF in Commerce, M. Com from Calcutta University, Kolkata, West Bengal.
---
About ERDA
"Transforming the society through Education, Innovation and Compassion"
Education Research and Development Association (ERDA) is a Not-for-Profit Organization. It is registered under the Indian Trust Act 1882 at Patna, Bihar, India on 28th February 2015. Dr. Ranjeet Kumar Mishra is the Founder and Managing Trustee of this trust. Vision of this organization is to transform the society through education, innovation and compassion.
Primary objectives of this organization are as follows:
To promote education and research in the field of Science and Technology, Commerce and Management, Social Sciences and Art and Humanities.

To organize Seminars / Symposia / Debates / Conferences / Workshops / Training programmes and other similar kind of events by itself or in collaboration with its institutional members.

To accept the research projects from Government and non-Government organizations / institutions.

To establish, maintain and run Talent Search Exam / Olympiad / Fellowship / Scholarship / Award / Prizes etc. for the development of knowledge and skill of students.

To establish, maintain and run the award for academicians, working individuals, organizations and institutions for their remarkable contribution in the field of education, research and social development.

To collaborate, enter into partnership or joint venture with any National and International University / Institution / Organization / Individuals / NGO etc. for the development of education and research.

To prepare and publish, either on its own or through or in collaboration with other persons and entities, papers, periodicals, magazines, books, journals, study materials, and other similar kind of things

To initiate and organize various activities for the social development.
ERDA is a membership-based organization and presently has around 200 lifetime members and around 600 annual members across 15 countries. It offers membership to individuals, and institutions and students.