Jai Hind College: Two weeks online Capacity Building Program on RESEARCH METHODOLOGY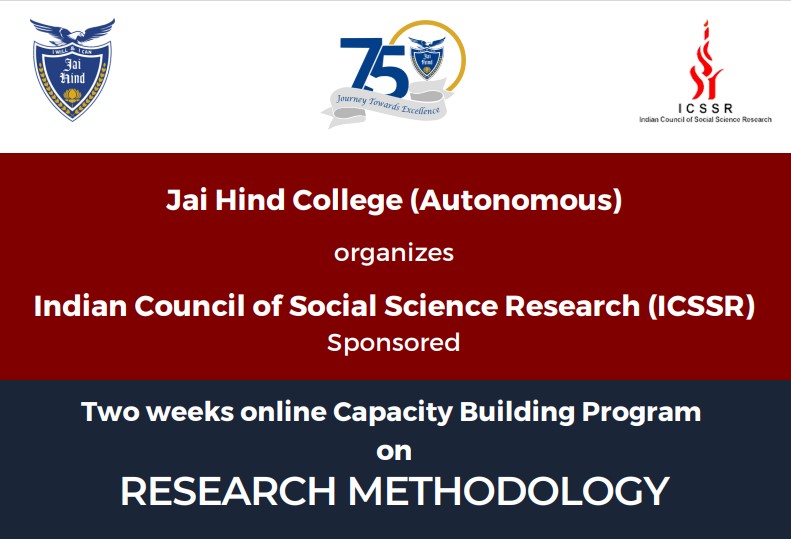 Program Dates: 20th Jan 2023 to 3rd Feb 2023
ABOUT JAI HIND COLLEGE (AUTONOMOUS)
Jai Hind College (Autonomous) has been committed to the idea of holistic education that fosters not just benchmarked and well thought out academic curriculum that instills values and a sense of responsibility in the students towards the nation and the society, but also focusses on building employability skills and imbibing a lifelong learning approach. Research is an in which area we endeavor to provide our students with best possible education, skills and exposure through lecture cum interactive sessions, regular departmental seminars, participation in research meet and through research projects.
We emphasize on promoting multidisciplinary research and encourage collaboration between institutions and individuals. More than just the teaching, we would like to train the students how to think and develop a critical spirit of inquiry that becomes a beacon of hope for developing solutions to problems around us locally, nationally or at the global level. Jai Hind College has always focused on building academic excellence and in achieving holistic development of students through its various undergraduate, post graduate, diploma, Certificate and value added courses.
ABOUT INDIAN COUNCIL OF SOCIAL SCIENCES AND RESEARCH [ICSSR]
Indian Council of Social Science Research (ICSSR), established in the year of 1969 by the Government of India to promote research in social sciences in the country. ICSSR provides grants for projects, fellowships, international collaboration, capacity building, survey, publications etc. to promote research in social sciences in India. Documentation centre of ICSSR - National Social Science Documentation Centre (NASSDOC) - provides library and information support services to researchers in social sciences.
ICSSR , Western Regional Centre, Mumbai The Indian Council of Social Science Research, an autonomous organisation, was established by the Government of India in 1969. It, in turn, established the Western Regional Centre (WRC) with the approval of the Government of Maharashtra in January
1973 in collaboration with the University of Mumbai on the new campus of the University of Mumbai at Vidyanagari. During the last thirty years, the WRC has grown into a fine and exceedingly useful institution. In fact, it has now been recognised as one of the best and most developed Regional Centres of the ICSSR in the entire country.
NEP 2020 emphasizes on a strong and vibrant higher education ecosystem with an emphasis on research, innovation and technology development in order face societal challenges better as well as to create capable professionals who can contribute their best in the interest of the society. To achieve the goal of Atma-Nirbhar Bharat (Self-reliant India), the integration of Research and innovation in our institutions is important. The Research based degrees proposed by NEP 2020 necessitate capacity building in research in the higher education institutes. This CBP program is being brought in line with this vision.
---
OBJECTIVES AND LEARNING OUTCOMES
Week one will focus on
Qualitative research methods with theoretical perspectives and ethnographic research. It will train learners on principles, guiding ideals and critical evaluation of positivism, postpositivism, interpretive approach, and critical perspectives (such as Marxism and radical approaches, feminism, postmodernism). It endeavours to acquaint learners in ethnographic fieldwork and in extended case study methods. Quantitative methods will cover elementary probability theory, probability distributions and their usage, Bi-variate correlation and regression, multivariate regression models, Panel data Analysis and time series.
Week two will focus on
Week Two will be devoted to exposure to the essentials in academic writing. This will cover writing of research papers, reports and books. It will have 10 sessions over five days and it will be divided into two parts: Part I will be six sessions of lectures/interactive sessions on the main elements of academic writing and publication. Part II will be a "Paper Clinic" of 4 sessions where actual examples of papers/outlines will be taken up for discussion.
OBJECTIVES
To develop competence in scientific thinking, logical reasoning and consciously practice the scientific inquiry

To recognize and appreciate the purposeful research

To build capacity to develop research proposal

To train in literature review, developing research design and sampling methods

To train in Qualitative Research -methods and techniques

To train in Action based research method

To provide an understanding on field work methods and Interpretative research

To provide learning on different research design and methods

To provide training on academic writing and its essentials

To provide a perspective on writing journal articles, and books

To provide an understanding on ethical issues, IPR and references
LEARNING OUTCOMES
After undertaking this research capacity building course , the learner will be able to
Develop the competence in conducting Qualitative and Quantitative research

Understand indigenous knowledge systems and research techniques in use for purposeful research

Develop knowledge about reading and organizing Scientific Literature

Appreciate and apply the systems thinking in research

Apply ethics in Research and Academic Communication

Formulate the cross disciplinary research problems and research design

Analyze the data using appropriate method; i.e. modelling, deterministic

Recognize the nuances of the research communication

Appreciate the potential and nuances of data visualization

Choose the appropriate scientific journal or outlet to publish

Apply judicious use of IPR related mechanism for impactful research

Recognize the different ways of commercializing the research output
---
Registration Fee for Attending the Course
Faculty and Industry : Rs. 2000/-
Students (PG) : Rs. 500-
Ph.D. Scholars: Rs. 1000/-
Date for Registration: Before 16th January
STEPS TO REGISTRATION
Interested participants please follow the steps to payment and registration
1. Click on the link: Jai Hind College Payment Gateway
2. Choose MISC Fees.
3. Fill in all details correctly.
4. In the purpose of amount enter - ICSSR-97
5. Amount —-rupees only (Faculty 2000 INR, Ph.D. Scholar 1000 INR, PG Student 500 INR)
6. Make payment and download receipt or take a screen shot of payment confirmation.
7. After Payment is done please fill the google form as follows- JHC- ICSSR FDP Registration (google.com)
OR
Please confirm after payment to any one of the following organizers with a screenshot
Dr. Archana Mishra (9969033177)
Ms. June Dias (9820442301)
Ms. Tanvi More (8828093995)
Ms. Vaidehi Dhamankar (9920244438)
Dr. Anamika Purohit (9820996129)
---
Patron
Dr. Ashok Wadia, Principal, Jai Hind College (Autonomous)
Course Director
Dr. Archana Mishra, Vice - Principal (Arts)
Co Course Directors
Ms. June Dias, H.O.D., Department of English
Ms. Vaidehi Dhamankar, Faculty, Department of Economics
Organizing Team
Dr. Anamika Purohit, Faculty, Department of English
Ms. Tanvi More, Faculty, B.Voc. TTM